Collecting Van Gogh Postcards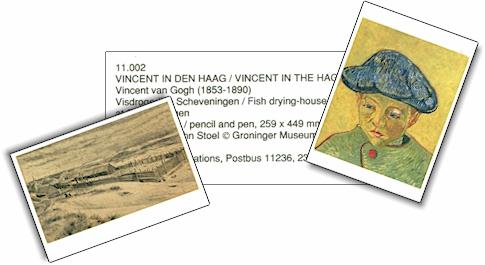 My interest in Vincent van Gogh's work and life began many, many years ago.
At first I bought some Italian books of art on his work, then out of Italy, much more interesting. I began to write to Van Gogh Museum in Amsterdam very often, so slowly my collection of Van Gogh art books augmented during these years. At the same time to this my Vincent passion, I thought to collect Van Gogh postcards of his paintings and drawings.
I found the first postcards in Italy: in Venice, Florence and Rome, but I suddenly noted that the postcards I could find in my country were always the same. Once again I turned my interest to the foreign countries. I went to Switzerland and there I bought many interesting postcards especially in Basel, in Winterthur, in Zurich and Lugano. After this, I found many titles in France: at Arles, for instance, in a very special Van Gogh cardshop. The real goldmine in Europe was and still is now the Van Gogh Museum in Amsterdam, where one can find two hundred of different titles at least.
Still in Holland in the Kröller-Müller Museum at Otterlo, another great museum devoted to the Vincent's works, I found many postcards. Now its museum shop is not supplied like the Van Gogh Museum in Amsterdam. But after Holland, Switzerland, France and Germany, the United States of America owns a huge number of Van Gogh works. So I began to contact the most famous art museums from north to the south. Now after all this capillary research, I collected a satisfactory number of Vincent works as postcards. My card collection at this time consists of over 600 numbers, one different from each other.
Of course after these researches a great many are the duplicates cards in the collection so I invite all the Van Gogh postcard collectors to contact me. If you are interested to exchange your duplicate postcards so as our collections could augment, and our acquaintance and friendship as well.
Claudio Montani
Ferrara (Italy)
Questa pagina web é disponibile anche in italiano.
---

Return to Visitor Submissions page

Return to main Van Gogh Gallery page
---