" FRUITS DU SOLEIL "
by France Ferran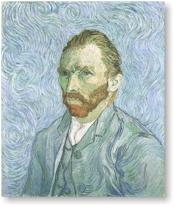 SAINT-REMY- AUTOPORTRAIT
Comme arrachée à de vertes ténèbres,
ta tête de Viking exhale une ardeur essentielle.
Des traits de feu laminent ton visage
et dans le chaud calice de ton oeil émeraude,
tourbillonnent des paysages actifs,
fruits farouches de ton amère solitude.
Pour toi, de l'autre côté du miroir,
la douleur sèche qui vire au noir.
(d'après son tableau Saint-Rémy -Autoportrait, 1889 -Paris, Musée d'Orsay)
---
SELF-PORTRAIT-SAINT-REMY
As torn away from green darkness,
your Viking head exhales so a vital ardour.
Features of fire scuff your face.
In the warm chalice of your emerald eye,
wilds fruits of your bitter solitude.
For you, on the other side of the picture,
already, a true dry pain turning to the black.
(from the picture Self-Portrait, Saint-Rémy, 1889 - Paris, Musée d'Orsay)
---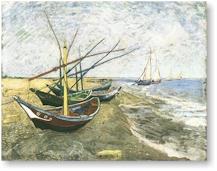 L'AVENTURE
(Ce que dit Van Gogh à un enfant qui rêve)
Regarde l'ardoise de la mer
à peine bleutée.
Regarde le ciel si vaste
tournoyant au-dessus de ta tête,
cette plage où quelques barques alignées
s'attardent avant de gagner le large.

Un jour, il sera temps pour toi
de courir les grands espaces.
Et les yeux étincelants de joie,
d'enthousiasme, chanter,
danser l'Aventure de la Vie !
(d'après son tableau Barques de Pêcheurs sur la Plage des Saintes-Maries - Amsterdam, Van Gogh Museum)
---
ADVENTURE
(What Van Gogh says to a young dreamer)
Look at the slate-blue sea.
Look at so an extended sky,
swirling over your head,
that beach where some boats are tarrying.
A day, by delight and enthusiasm, wide-eyed,
it will be time you roam, remote,
singing, dancing the great
Adventure of Life !
(from Fishing Boats on the Beach of Sainte-Maries - Amsterdam, Van Gogh Museum)
---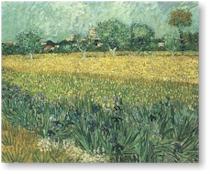 LETTRE A VINCENT
Arles - N'aurais-tu pas oublié ici ton chevalet ? A quoi nous servira-t-il à présent, puisque nous avons perdu son maître, et le foisonnement des boutons-d'or et les iris dégorgeant des fossés, comme cette mer jaune barrée d'une ligne violette?
Tu es passé au-delà. Il n'y a plus de tempêtes là où tu es. Mais sais-tu à quel point ce Pays d'Empire, joyau des Conquérants, enfin, s'est donné à ton art ? Des toiles par centaines. A prix d'or, notre temps t'aura adopté.
Et le soleil qui t'a vaincu jadis - comme il avait vaincu Mireille * - maintenant te magnifie.
Le Pays des Tableaux, voilà ce que tu as fait de nous.
Ce que tu as dit, ce que tu as écrit avec tes couleurs, tout est dans le cœur multiple des artistes venus vers toi, comme aimantés à ta grande âme inquiète et chaleureuse.
Pour le prix de tes batailles, accepterais-tu notre Vénus* ? La voudrais-tu ? Comment ignorerait-elle qu'avant l'aube triomphante, tu connus le crépuscule assassin ?
Oiseau du Nord porté par le mistral, aujourd'hui sois un prédicateur heureux !
(d'après son tableau "Vue d'Arles aux Iris")
___
* Mireille, l'héroïne du poète provençal Mistral, terrassée par le soleil brûlant de la Crau, aux environs d'Arles. Le compositeur Gounod en fit le célèbre opéra-comique Mireille.
* Vénus, actuellement au Musée du Louvre et découverte au Théâtre Antique d'Arles, cette statue de la déesse fut offerte à Louis XIV. A Arles, seul subsiste un moulage.
---
LETTER TO VINCENT
Arles - Would you forget here your easel ? But it doesn't serve us at this very moment, because we have lost its master. And the profusion of buttercups. And irises overflowing ditches, like a yellow sea accentuated with purple lines. You have crossed beyond that. No more storms where you are.
With you, Vincent, Arles had a summit meeting. You can see how this ancient Country of Empire -jewel of Conquerors, finally devotes itself to your art.
At what a high price our time has adopted you ! And the sun, which vanquished you, as it had done for Mireille*, now glorifies your genius.
Earth of Paintings, you made that of our southern country !
What you said, what you wrote with your colours, everything is into the manifold heart of artists rushing up to you, magnetized by your troubled but warm soul.
In compensation for your battles, would you accept our Venus *, would you ?
How should she ignore that before the triumphant dawn, you had known a dreadful twilight ?
Northern Bird brought by our mistral *, be a blissful preacher for ever !
(from View of Arles with Irises in the background)
___
* Mireille : heroine of Mistral, Provence's poet, struck down by the sun. Also famous Gounod's opera.
* Venus : antic statue of the goddess, discovered in the Antique Theatre of Arles, and offered to King Louis XIV, now in Musée du Louvre, Paris.
* mistral : violent wind blowing on Mediterranean country.
_________________________
© France  Ferran
---

Return to the Visitors Submissions page

Return to the main Van Gogh Gallery page
---