"AUTORRETRATOS (Parte I)"
"LOS AUTORRETRATOS DE VAN GOGH PROMUEVEN UNA EVASIVA Y A VECES CONTRADICTORIA IMAGEN DE SI MISMO. PINTÓ ALREDEDOR DE CUARENTA Y TRES AUTORRETRATOS ENTRE 1885 Y 1889, DONDE LA DIVERSIDAD DE REPRESENTACIONES FÍSICAS ES SORPRENDENTE; LA ESTRUCTURA DE LA CARA MUESTRA LA APARIENCIA DE QUE LOS CUADROS FUERAN DE DIFERENTES PERSONAS".

VAN GOGH Melissa McQuillan (Libro 19).

" Lo que más me apasiona - mucho, mucho más que el resto de mi trabajo - es el retrato, el retrato moderno. ...'Debería' pintar retratos que llegaran a ser como apariciones a la gente que viva dentro de un siglo." (W22). "Hay un retrato de Millet hecho por el mismo Millet que me gusta, nada más un rostro con una especie de sombrero de pastor, pero la mirada a través de los ojos medio cerrados, la intensa mirada de un pintor - qué bella es - también ese destello penetrante como el del ojo de un gallo, si lo pudiera llamar de esa manera." (T248).
"No hay un camino mejor ni más corto para mejorar el trabajo que hacer figuras. Además siempre me siento con más confianza haciendo retratos, sabiendo que este trabajo es mucho más profundo - tal vez esta no sea la palabra, pero supongo que me permite cultivar lo que tengo mejor y más profundo dentro de mi." (T517). "He comprado expresamente un espejo bastante bueno para poder trabajar con mi propio rostro a falta de modelos, porque si llego a pintar la coloración de mi propia cara, lo que no deja de presentar alguna dificultad, podré pintar los rostros de otros buenos hombres y mujeres." (T537).
Vincent nos explicó "Uno debe conocer la estructura de las imágenes a fondo para obtener la expresión - al menos, no puedo verlo de otra manera" (T281). "La clave para muchas cosas es el conocimiento a fondo del cuerpo humano, pero cuesta mucho dinero aprenderlo" (T381). "Los modelos son caros, al menos relativamente caros, y si tuviera suficiente dinero para tenerlos frecuentemente, estaría capacitado para trabajar mucho mejor" (T141). "Definitivamente no soy un paisajista, cuando realizo paisajes siempre habrá en ellos vestigios de figuras" (T182).
"Quisiera pintar a los hombres y a las mujeres con no sé que de eterno, de lo que en otro tiempo el halo era el símbolo, y que buscamos por el centelleo mismo, por la vibración de nuestros colores" (T531). Debido a la gran cantidad de autorretratos que realizó Vincent, no es fácil incluir una lista tan completa como la que presenta David en las secciones "Sketches" y "The Paintings" (Self-Portraits) "Self-Portraits", de NUESTRA GALERÍA DE VAN GOGH: vggallery.com
En esta primera parte de artículos acerca de los autorretratos, me enfocaré a aquellos de la primera época, los que eran "oscuros", pintados tal vez al estilo de Rembrandt (ver Tabla I). Todos estos cuadros los pintó en 1886 y principios de 1887 en París.
El "Autorretrato con sombrero negro enfrente del caballete" (F0181/JH1090) es el primer autorretrato que Vincent pintó al óleo. Este cuadro se dañó en la parte superior izquierda durante un incendio en 1941 en Laren, cuando su propietario era el hijo de Theo. Tengo una copia de este cuadro en los libros: 3 (P18) y 22 (P 22). Otro "Autorretrato con sombrero negro enfrente del caballete" (F0208a/JH1089) fue encontrado en 1952. He encontrado copia de estos cuadros en los libros: 1 (P 79), 3 (P 20) y 22 (P 24).
"Autorretrato con Pipa" (F0180/JH1194), "Autorretrato con Pipa" (F0208/JH1195), "Autorretrato con Pipa y Vaso" (F0263a/JH1199), "Autorretrato" (F0178v/JH1198) y "Autorretrato" (F0345/JH1249) son los últimos Autorretratos "oscuros" que Vincent preparó. El último es ligeramente diferente debido a que Vincent utilizó algunas "...pequeñas 'comas' de color - rojas, cafés, azules, verdes, amarillas y blancas - para preparar la pintura" como explica Bernard Denvir (Libro 22). Tengo copia de todos estos cuadros en los libros 3 (P 22, 24, 26, 36 y 38) y 22 (P 26, 28, 30, 32 y 34). El libro 1 incluye una copia en blanco y negro del último cuadro (P 15), en tanto que en el capítulo 8 del libro 13 se puede encontrar una copia del F0180/JH1194.
Como desafortunadamente Vincent no escribió nada con referencia a estos Autorretratos (ver "Letters Database" de NUESTRA GALERÍA DE VAN GOGH), preferí usar frases de Vincent donde habla sobre los autorretratos en general.
---
"SELF-PORTRAITS (Part I)"
"VAN GOGH'S PICTORIAL SELF-PORTRAITS ALSO ADVANCE AN ELUSIVE AND SOMETIMES CONTRADICTORY SELF-IMAGE. BETWEEN 1885 AND 1889 HE PAINTED SOME FORTY-THREE SELF-PORTRAITS,... THE DIVERSITY OF PHYSIOGNOMIC REPRESENTATION IS ASTONISHING; THE ENTIRE FACIAL STRUCTURE SEEMS TO BELONG TO DIFFERENT MEN.".

VAN GOGH Melissa McQuillan (Book 19).

"What impassions me most - much, much more than all the rest of my métier - is the portrait, the modern portrait. ...I 'should like' to paint portraits which would appear after a century to the people living then as apparitions." (W22). "There is a portrait of Millet by Millet himself which I love, nothing but a head with a kind of shepherd's cap, but the look through half-closed eyes, the intense look of a painter - how beautiful it is - also that piercing gleam like in a cock's eye, if I may call it so." (T248).
"There is no better or shorter way of improving your work than doing figures. And I always feel confident when I am doing portraits, knowing that this work has much more depth - it isn't the right word, perhaps, but it is what makes me cultivate whatever is best and deepest in me." (T517). "I purposely bought a mirror good enough to enable to work from my image in default of a model, because if I can manage to paint the coloring of my own head, which is not to be done without some difficulty, I shall likewise be able to paint the heads of other good souls, men and women." (T537).
Vincent explained "One must know the structure of the figures so thoroughly to get the expression - at least, I can't see it differently" (T281). "The key to many things is the thoroughly knowledge of the human body, but it costs money to learn it" (T381). "Models are expensive, at least relative expensive, and if I had money enough to have then often, I should be able to work much better" (T141). "I am decidedly not a landscape painter; when I make landscapes there will always be something of the figure in them" (T182).
"I want to paint men and women with that something of the eternal which the halo used to symbolize, and which we seek to convey by the actual radiance and vibration of our coloring" (T531), Due to the number of Self-Portraits Vincent painted, it is not so easy to present a complete list as the relation included by David in the sections: "Sketches" and "The Paintings" (Self-Portraits) "Self-Portraits", of OUR VAN GOGH GALLERY: vggallery.com
In this first part of Self-Portraits notes, I will focus on the self-portraits Vincent done at the beginning, those I consider as "dark", painted maybe with Rembrandt's influence (see Table I). All of them were painted in Paris during 1886 and early 1887.
The "Self-Portrait with Dark Felt Hat at the Easel" (F0181/JH1090) is the first self-portrait in oils Vincent painted. It was damaged in the left upper part of the canvas during a fire at Laren in 1941, when it was owned by Theo's son. I have a copy of this self-portrait at the books: 3 (P 18) and 22 (P 22). Another "Self-Portrait with Dark Felt Hat at the Easel" (F0208a/JH1089) was found in 1952. I have found copies of this canvas at books: 1 (P 79), 3 (P 20) and 22 (P 24).
"Self-Portrait with Pipe" (F0180/JH1194), "Self-Portrait with Pipe" (F0208/JH1195), "Self-Portrait with Pipe and Glass" (F0263a/JH1199), "Self-Portrait" (F0178v/JH1198) and "Self-Portrait" (F0345/JH1249) are the last "dark" Self-Portraits Vincent prepared. The last one is a quite different because Vincent used some "... small 'commas' of color - reds, browns, blues, greens, yellows, and whites - to build up the picture" as Bernard Denvir explains (Book 22). I have a copy of all of these canvases in the books 3 (P 22, 24, 26, 36 and 38) and 22 (P 26, 28, 30, 32 and 34). From the last one, the book 1 includes a copy in black and white (P 15), though in the chapter 8 of book 13 you can find a copy of F0180/JH1194.
Unfortunately, as Vincent did not write anything about these specific Self-Portraits in his letters (see the "Letters Database" of OUR VAN GOGH GALLERY), I preferred to use just Vincent's phrases talking in general about Self-Portraits.
DETALLES / DETAILS
Presento una selección de "detalles" de los autorretratos de Vincent que menciono, espero les guste.
I present some "details" included in these Vincent' Self-Portraits, I hope you like my choice.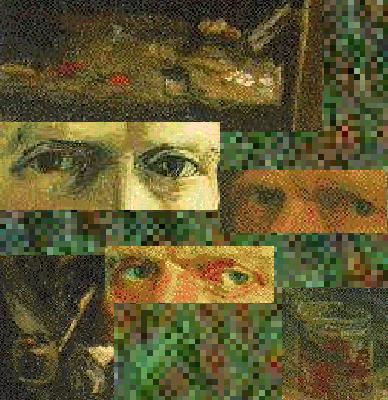 BIBLIOGRAFÍA / BIBLIOGRAPHY
Los números de los libros corresponden a como los tengo clasificados en mi propia colección de libros acerca de Vincent.
I put the book numbers as I have identified in my own collection of books about Vincent.
1. VAN GOGH. A RETROSPECTIVE. SUSAN ALYSON STEIN. 1986. HUGH LAUTER LEVIN ASSOC. INC. N.Y.

3. VAN GOGH SELF PORTRAITS. PASCAL BONAFOUX . 1989. TABARD PRESS. N.Y.

13. VAN GOGH. BIOGRAFÍA. PIERRE LEPROHON . 1991. SALVAT EDITORES. BARCELONA.

19. VAN GOGH. 1989. MELISSA MCQUILLAN. . . WORLD OF ART. THAMES AND HUDSON. N.Y.

22. VINCENT. A COMPLETE PORTRAIT. BERNARD DENVIR . 1994. RUNNING PRESS.
Enrique Pareja. enpah@yahoo.com
enpa 99 (Noviembre/November)
---
TABLA I / TABLE I
| | | | | |
| --- | --- | --- | --- | --- |
| Painting Name | Origin | Current Location | F | JH |
| Self-Portrait with Dark Felt Hat at the Easel | Paris: Spring, 1886 | Amsterdam, Van Gogh Museum | 181 | 1090 |
| Self-Portrait with Dark Felt Hat | Paris: Spring, 1886 | Amsterdam, Van Gogh Museum | 208a | 1089 |
| Self-Portrait with Pipe | Paris: Spring, 1886 | Amsterdam, Van Gogh Museum | 180 | 1194 |
| Self-Portrait with Pipe | Paris: Spring, 1886 | Amsterdam, Van Gogh Museum | 208 | 1195 |
| Self-Portrait with Pipe and Glass | Paris: early 1887 | Amsterdam, Van Gogh Museum | 263a | 1199 |
| Self-Portrait | Paris: Autumn, 1886 | The Hague, Haags Gemeentemuseum | 178v | 1198 |
| Self-Portrait | Paris: Spring, 1887 | Chicago, The Art Institute of Chicago | 345 | 1249 |
---

Retorno a la página Panel de los Visitantes

Retorno a la página principal de Van Gogh
---