A Fragment
By Bob Harrison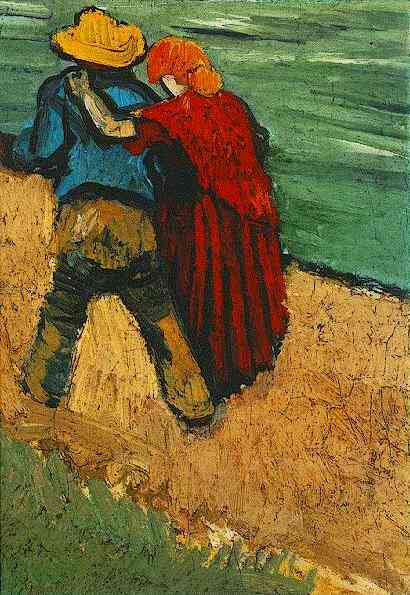 It is Sunday, the 18th March 1888. In the town of Arles, in southern France, Vincent is writing a letter to his friend Emile Bernard (Letter B2), and he is writing of "a study that engrosses me, because I want to make something of it – sailors returning with their sweethearts to the town which is profiled by the strange silhouette of its drawbridge against an enormous yellow sun. I have another study of the same drawbridge with a group of women washing." He even included a sketch at the top of the letter.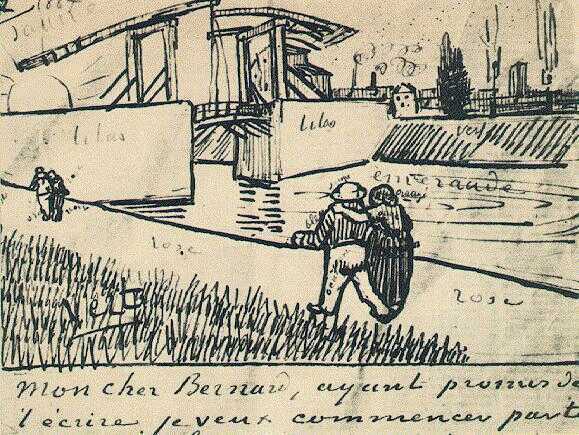 (Rose is pink: lilas, lilac; jaune, yellow; emeraude, emerald; vert, green; ecarlat, scarlet; noir, black.) The numbers at the top left were added by someone else, probably Jo Bonger van Gogh, when she was cataloguing the letters.
In this way he announced his latest painting. On the same day he wrote to his brother Theo, (letter 470), "Wind and rain these last few days. I've worked at home on the study I made a sketch of in Bernard's letter. I want to manage to get colours into it like stained glass windows, and a good, bold design."
Alas, the next day he wrote to Theo, (letter 471), "I've had a setback with the sunset with figures and a bridge that I spoke of to Bernard. The bad weather prevented my working on the spot, and I've completely ruined it by trying to finish it at home."
And that is all we ever hear of this painting. Not one more word. Yet somehow a fragment of it survived, now in a private collection, known as "The Lovers" with the catalogue number F544, JH 1369.
Why just a fragment? It is absolutely unique in van Gogh's oeuvre, he always scraped off and re-used an unsuccessful canvas. He was rarely satisfied even with his completed paintings, disparagingly calling them "studies", and he seems to have had little attachment for any of his work, freely giving them away to the model or exchanging them with other artists.
The provenance for the painting does not reveal any clue as to its early history.
De la Faille lists it as:
Henry Bernstein Paris
Sale Bernstein (Drouot) Paris 8 June 1911
Bernheim Jeune Art Gallery Paris
Jos Hessel Art Gallery Paris
Vildrac Art Gallery Paris
Hermann Lie Oslo
J.E. Werenskiold Lysaker 1968 Near Oslo
Thus it first appeared in Paris in 1911, fully 23 years after it had been painted, in the possession of a mysterious Henry Bernstein. How did it reach Paris? Why did the fragment survive? Vincent would not have thrown the canvas out unless somehow he tore it, for he was always short of materials. In his letter he says that he immediately, that is the same afternoon, started on another painting of the same subject, (F400, JH1371) so why didn't he scrape it off and re-use this canvas? Did someone else find the damaged work in Vincent's garbage and save the piece? Perhaps the Danish painter Mourier Petersen was responsible for saving it. He was there with van Gogh at the time, and perhaps he saw the damaged canvas and took it. He was a young painter struggling to find a style of his own; no doubt he was impressed with the paintings his friend was doing.
The subject of the Fragment is also interesting. Van Gogh often included a pair of lovers in his paintings. Perhaps he saw himself as this sailor with his sweetheart, her arm so warmly draped around his shoulders? Loneliness can be a terrible thing, although he had only left Paris the month before, and had Mourier as a companion. Thus he was not totally isolated, although the good people of Arles seem to have treated him rather badly. As a foreigner he was probably viewed with suspicion, and a plum ripe for picking in any way they could. There was also the language problem, the local Arlésiens spoke a dialect that would have been difficult for him to understand.
The Fragment shows clear evidence of his technique for the water and the figures, yet the very next painting he mentions, the Langlois Bridge at Arles with Road alongside the Canal, (F400, JH1371), shows a different technique. In this painting there is little of the impasto strokes of pure colour that characterize so many of his paintings, it appears rather flat and dull in tone. Yet of the Lovers he speaks of wanting to "get colours into it like stained glass windows, and a good, bold design." (Letter 470). The painting was started in the open air, but finished (and ruined) in an afternoon: thus the painting was done with the characteristic speed Vincent was famous for. He was quite proud of the fact that he could complete a painting very quickly. "But that's what I am good at, doing a fellow roughly in one sitting," he says in letter 525.
The size of the Fragment is also a problem. It is listed as 32.5 X 23 cm., or 12.75" X 9". As he usually made up a batch of canvases, we can assume that the origional work was the same size as the next painting, 59.5 X 74 cm, 23.25" X 29", which means that the proportions of the sketch must have been different from the finished work. This must have been somewhat taller and less broad, in order to fit the couple into the framework.
Many thanks to David Brooks and Karen Spencer for their invaluable help.
---

Return to Visitor Submissions page

Return to main Van Gogh Gallery page
---