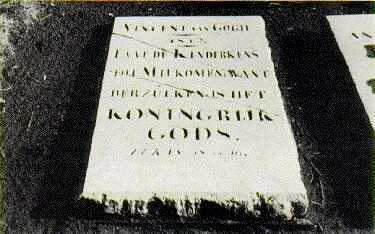 Grave of Vincent van Gogh (infant)

The gravestone reads:
VINCENT VAN GOGH
1852
Let the little children
come to me
for theirs is
the KINGDOM
of GOD
LUKAS 18 vs 16.
On 30 March 1852 Vincent van Gogh's mother, Anna, gave birth to a stillborn child named Vincent Willem van Gogh. One year to the day later a second child was born--also named Vincent Willem.
There has been a great deal of speculation as to how Vincent must have felt about the brother he never knew. How would he have felt walking by this gravestone which bore his name and his birthdate? Perhaps the infant Vincent's grave was a strong reminder to the second Vincent of his own mortality.