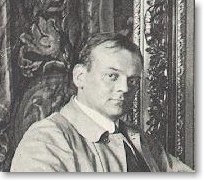 Jacob Baart de la Faille
(1886 - 1959)

Dr. Jacob Baart de la Faille, one of the founding fathers of Van Gogh scholarship, actually majored in law and not art at the University of Utrecht. Nevertheless, upon graduation Dr. De la Faille would devote his life to contemporary art. Dr. De la Faille never jointed the Bar--instead his early career was a varied mixture of lecturing, writing fiction and publishing ethnological articles in newspapers and magazines.
It was probably an essay written by Herman F. E. Visser which appeared in De Beweging in 1917 that compelled Dr. De la Faille to undertake the daunting task of compiling the first catalogue raisonné of Vincent van Gogh's works. The project took eleven years to complete and was finally published in 1928 as a four volume set. The editing alone of the final manuscript entailed eight years of work.
Two years later, in 1930, Dr. De la Faille published Les Faux Van Gogh, a supplement to the 1928 catalogue in which he listed 33 forged works as genuine. The 1928 catalogue was reprinted in 1939 and again in 1970 (posthumously).
Dr. De la Faille maintained a life long love of Vincent van Gogh's art works and his catalogue--a truly remarkable achievement--and its later editions remain the standard as a comprehensive collection of Van Gogh's complete works.