Two men, convicted of stealing two paintings from the Van Gogh Museum, have been sentenced

8 April 2005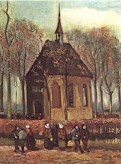 AMSTERDAM -- Octave B. and Henk B., both 32, were sentenced today by the Amsterdam Appeals Court for stealing two paintings from the Van Gogh Museum in 2002.
The two men were convicted based on DNA evidence and witness accounts. In addition to more than three years of jail time, they have been order to pay the Vincent van Gogh Museum 350,000 euros in damages.
The two paintings View of the Sea at Scheveningen and Congregation Leaving the Reformed Church in Nuenen have still not been recovered.
---

Return to main Van Gogh Gallery page
---