Two Men Jailed in Connection with 2002 Robbery at the Van Gogh Museum

26 July 2004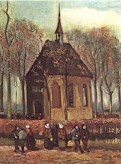 AMSTERDAM -- Two men were sentenced today in Amsterdam for the 2002 robbery at the Van Gogh Museum in which two paintings were stolen: View of the Sea at Scheveningen and Congregation Leaving the Reformed Church in Nuenen.
The men, Henk B. (his full name can't be disclosed because of Dutch privacy laws) and Octave Durham (his name revealed earlier this year by Spanish authorities), pleaded not guilty despite the fact that DNA evidence and the Van Gogh Museum's security cameras allegedly put them at the scene of the crime. Their conviction comes after police tracked the men for over a year in both the Netherlands and Spain. Both men plan to appeal the decision.
In the meantime, the whereabouts of both Van Gogh paintings remains unknown.
---

Return to main Van Gogh Gallery page
---