Van Gogh Painting Owned By Elizabeth Taylor Involved in Legal Battle

26 May 2004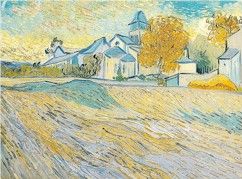 Elizabeth Taylor has taken legal action after three people have come forward with a claim that a Van Gogh painting in her collection, View of the Church of Saint-Paul-de-Mausole, was illegally seized during the Second World War.
Ms. Taylor is suing Andrew Orkin, a Canadian lawyer, and his two old siblings who live in Johannesburg, South Africa. Mr. Orkin and his brother, Mark Orkin, and sister Sarah-Rose Josepha Adler claim that the painting, once owned by their great-grandmother Margarete Mauthner, still rightfully belongs to their family. Ms. Mauthner left the painting behind in Berlin while fleeing Nazi persecution in 1939.
The Washington, D.C. law firm representing the Orkins and Ms. Adler, Byrne Goldenberg and Hamilton, approached Ms. Taylor with regards to a negotiated return of the painting. Representatives of Elizabeth Taylor maintain that the painting wasn't among the many art works looted by the Nazis, but rather passed legally through two reputable galleries in Europe before eventually coming into her possession at an auction in 1968.
The defendants' lawyers commented that Ms. Taylor's claims "evinces no understanding of Nazi policy to German Jews during the 1930s. It is now widely acknowledged and accepted in the art world and by recent federal legislation that German Jews sold paintings and other property during the Hitler era under circumstances that amounted to a national policy of theft."
Elizabeth Taylor put View of the Church of Saint-Paul-de-Mausole up for auction in 1990. The work was offered for sale by Christie's in London, but did not achieve the undisclosed minimum selling price.
---
Related Information
Margarete Mauthner owned seven Van Gogh paintings and drawings:
© 2004 David Brooks
---

Return to main Van Gogh Gallery page
---