Art Thieves Left Evidence Behind

12 February 2004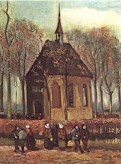 AMSTERDAM -- The two main suspects of the robbery of two paintings of Vincent van Gogh from the Van Gogh Museum in Amsterdam of 7 December 2002 are still under arrest because convincing evidence has been revealed. A cap and a hat, which were found shortly after the theft on the steps of the museum have been investigated. A DNA test on hair inside the head covers showed the hair belonged to the suspects, who entered into the museum using a ladder that was left behind by some workers.
The canvases that were stolen from the Van Gogh Museum were the View of the Sea at Scheveningen and Congregation Leaving the Reformed Church in Nuenen both painted by Vincent van Gogh. The works have an estimated value of about three to four million euros.
The suspects, Octave Durham (31) and later Henk B. had been arrested by the Spanish police last year near Malaga in Spain. According to the Spanish police they are "dangerous international criminals". Both vehemently deny any participation in the theft of the paintings.
In the last few years several museums in Holland had been the victim of robberies. From the Frans Hals Museum in Haarlem five paintings from this painter were stolen, while from another museum, the Museon in The Hague diamonds were stolen. All the thefts caused an intensive discussion in Holland about the security aspects of museums.
(Text courtesy of Jan Geerling.)
---

Return to main Van Gogh Gallery page
---