Stolen Van Gogh Watercolour Quickly Recovered

28 April 2003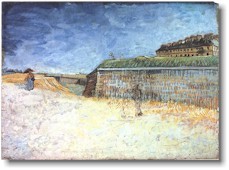 MANCHESTER, U.K. -- A Van Gogh watercolour, The Ramparts of Paris, stolen from the Whitworth Art Gallery has been recovered.
The watercolour, which Vincent van Gogh produced in 1887, was one of several works stolen, including Picasso's Poverty and Gauguin's Tahitian Landscape. The theft took place sometime after 9 p.m. on Saturday evening, but wasn't discovered until noon the next day. Manchester police called the theft "well planned." Around 2 a.m. the next morning police received an anonymous telephone call claiming that the stolen works could be found in a carrying tube inside a public toilet. The art works were subsequently recovered and returned to the Whitworth which remains closed today. Apparently the Van Gogh watercolour received some water damage.
The motive for the robbery is unclear, but there are suggestions that it may have been deliberately staged in an effort to call attention to poor security at the Whitworth. A note, allegedly found attached the tube storing the art works, maintained that this was the sole reason for the theft.
---

Return to main Van Gogh Gallery page
---