Two Van Gogh Works Stolen from the Van Gogh Museum

7 December 2002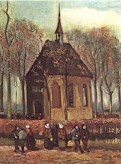 AMSTERDAM -- Sometime early Saturday morning, thieves broke into the Van Gogh Museum and stole two of Van Gogh's best known paintings from his early period.
One or more thieves used a ladder to scale the back facade of the Van Gogh Museum and apparently broke in through the roof. Although alarms were triggered, the thieves had enough time to steal two paintings: View of the Sea at Scheveningen and Congregation Leaving the Reformed Church in Nuenen.
Forensics experts are studying broken glass found near the crime scene and police are reviewing the Van Gogh Museum's security tapes.
The theft at the Van Gogh Museum is puzzling in a number of respects:
Apparently the break in occurred just before 8 am. The back facade of the Van Gogh Museum faces the large Museumplein, an open park that runs from the Rijksmuseum to the Concertgebouw. At that time in the morning the Museumplein would be quite busy with pedestrians.

The two stolen paintings share a room with far more famous works: The Potato Eaters and Skull with Burning Cigarette, for example. And some of Van Gogh's most renowned paintings were just one or two rooms away (Still Life: Vase with Fifteen Sunflowers, Wheat Field with Crows and Vincent's Bedroom in Arles to name only three). Why did the thieves target these specific paintings?

Finally, how did the thieves break in, proceed through the Van Gogh Museum, steal the paintings and escape without Museum security or police responding in time?
Investigations continue.
---

Return to main Van Gogh Gallery page
---