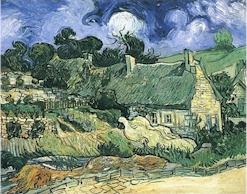 Thatched Cottages at Cordeville
Auvers-sur-Oise: June, 1890
(Paris, Musée D'Orsay)
For me, it all began with the painting at left, Thatched Cottages at Cordeville.
It's strange, when I think about it, to reflect back on how my great love of Vincent van Gogh's life and works first came to be. My initial interest in Van Gogh began several years ago when I was finishing the last book in Frank Herbert's epic Dune series, Chapterhouse: Dune (set about 21,000 years in the future). One thing I found quite intriguing was the fact that one of the only objects from Earth which had survived was a Van Gogh painting, Thatched Cottages at Cordeville. The painting was in the possession of a sect called the "Bene Gesserit".
One of the characters, Odrade, refers to a holographic copy of Thatched Cottages:
---
"It was painted by a madman of Old Terra," she said, bringing her cheek close to his while both looked at a copy of the painting. "Look at it! An encapsulated human moment."
In a landscape? Yes, dammit. She was right.
He stared at the holo. Those marvelous colors! It was not just the colors. It was the totality.
---
This reference to this specific Van Gogh painting intrigued me enough to track it down. From that point onward I was captivated with Van Gogh and his works. One of the great moments in my appreciation of Van Gogh came when I had the privilege of seeing the real Thatched Cottages at Cordeville at the Musée D'Orsay in Paris. It was nothing like the reproductions I had seen. The colours, the texture--as if the painting was somehow alive--somehow a living, breathing testament to Van Gogh, to his tortured nature and his profound brilliance. Up until that point Van Gogh was of great interest to me, but after that October day in Paris, he had forever captured my admiration and respect.
After the trip to France I started reading as much as I could about the life and art of Vincent van Gogh (see my References / Books page for further details). It's difficult to describe, really. I found myself thinking about Van Gogh all the time. Of his brilliance and the profound tragedy of his life. Though deeply troubled, Vincent knew all along that he was producing something extraordinary. Yet he only sold one painting in his lifetime. It wasn't until thirty years after his death that people really finally began to understand just how incredibly beautiful and brilliant Van Gogh's works really were. Far too late for either Vincent or his brother Theo, of course.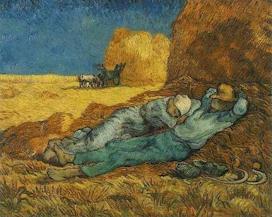 Noon: Rest from Work (after Millet)
Saint-Rémy: January, 1890
(Paris, Musée D'Orsay)
Actually, my interest in Van Gogh has some similarities to my interest in the life of Joan of Arc and the Titanic disaster. Van Gogh was so gifted, so brilliant and yet he was never recognized in his time. His is another life of "what if"s. What if he had received the necessary medical attention? What if he had earned enough money to support himself properly? What if people discovered his works, not thirty years after his death, but while he was still alive and at the height of his creative talent? Vincent's works are beautiful beyond words and one of my hobbies is making an effort to see as many Van Gogh paintings on display as I possibly can. I've been lucky enough to see Van Goghs on exhibit in New York, Toronto, Ottawa, Paris, California, Buenos Aires, England, Spain, and, the most incredible of all: The Netherlands (please see my Travels page for details).
Until my interest in Van Gogh came about, I was never a great scholar of the fine arts and have no formal education in them. And yet I can "see" things within each of his canvases: his gentleness and compassion in his works after Millet (especially First Steps), his profound love of nature in any of his sunflower series or his two beautiful iris paintings (one of which is right here in Canada at the National Gallery in Ottawa), his devastating depression and despair (seen in the raging swirls of Starry Night or perhaps in the even more turbulent and beautiful Wheat Field with Crows). There's some part of the real Vincent in each and every one of his works.
I find that Vincent's works have permeated my own life in very positive ways. The more I learn about Vincent and his art, the more I'm (pleasantly) overwhelmed by the vast amount of information available. I've built up a large Van Gogh library and have had the great fortune to correspond with Van Gogh scholars from around the world. What began with a fleeting reference in a science fiction book has truly become a life's passion. I feel very fortunate.
Remind me, Vincent, of where I came from and what I yet may do.
Frank Herbert
Chapterhouse: Dune
---

Return to main Van Gogh Gallery page
---